Lala Kent Says She Has Receipts For Fofty Cent
I'm just patiently waiting for Fofty's clap back.
On Thursday Lala Kent appeared on WWHL, so it was inevitable she was going to be asked about that iconic feud between her fiance Randall Emmett and rapper Fofty Cent. And yes, you read that correct, in the pages of Good Tea he's known only as Fofty, I don't know who Fifty is.
In case you've been living under a rock or with no internet access, the rapper called out Randall earlier in the year for being a sucker for funding Lala's extravagant lifestyle and more or less called the reality star a gold digger on social media.
He then demanded Randall pay him the $1 million that he was owed and released screenshots between the two, posted memes about the scandal and even sold merch. In the end, Fofty got his money back.
During her WWHL appearance, a viewer asked where her relationship stands with Fofty today and she joked about listening to "In The Club" on her birthday. Lala also clarified why she deleted all those photos of Randall from her Instagram during that time:
"I feel really badly for Rand at times because he signed up to be a movie producer and he just happened to fall for someone who is very out there and outspoken. So in the moment, I was like "F this." I'm not having pictures up for people to screenshot and send to me and write mean things, it was just heat of the moment."
RELATED: The Truth Behind Jax Taylor & Tom Sandoval's Feud
The reality star turned sugar baby also said she was happy she managed to knock Fofty's ego and has the receipts to prove it, which is a pretty iconic thing when you think about it. Lala explained:
"I think I really dinged Fofty's ego… In fact, I know that because I have a receipt to prove that which I would never post because I ain't that girl. I ain't beefing unless I'm getting paid on Vanderpump, yo! I'm from Utah and to think it's like Tupac and Biggie, Lala and Fifty… Like, what up though?"
Anybody with a brain knows you can't threaten to have receipts on someone and not prove them in the court of reality television. If you don't want to show the world screenshots to prove your point, then don't fucking say you have them in the first place.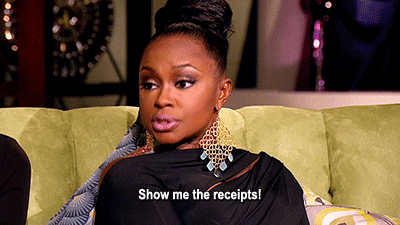 I'm just waiting for Fofty's clap back because we know it's coming.
UPDATE: Like clockwork, Fofty clapped back.
He posted a photo with Lala and Rand with the caption suggesting Randall texted Fofty saying "this bitch is drunk and high. I told her to put her phone down she won't listen", and Fofty replied telling him to shut the fuck up. Who's ready for round two?
Thoughts? Sound off in the comments!